St. Louis Concussion Injury Lawyer
This page has been written, edited, and reviewed by a team of legal writers following our comprehensive editorial guidelines. This page was approved by Founding Partner, Terry Crouppen who has more than 40 years of legal experience as a personal injury attorney. Our last modified date shows when this page was last reviewed.
Have you suffered a concussion caused by someone else's conduct? Brown & Crouppen is here for you when you need a trusted St. Louis concussion lawyer. Our experienced team understands the complexities of concussion cases and is dedicated to providing diligent legal representation. We will fight for your rights and pursue the compensation you deserve for medical expenses, lost wages, and more. Trust Brown & Crouppen to be your advocates in navigating the personal injury legal process.
A concussion is a traumatic injury to the brain that may impair its function. Concussions are typically caused by sudden jolts that may or may not result in unconsciousness. The jolt can be a blow to the head or a sudden shaking motion that causes the brain to strike the skull. A concussion can have significant and long-lasting effects on an individual's physical, emotional, and financial well-being. When dealing with legal proceedings regarding a brain injury, you need an experienced brain injury lawyer by your side. 
At Brown & Crouppen, we understand your challenges and are committed to providing unwavering support throughout your legal journey. Our St. Louis concussion lawyers will tirelessly advocate for your rights. Contact Brown & Crouppen to fight for the justice and compensation you deserve.
Why Hire a Lawyer after a Concussion?
Dealing with a concussion or brain-related injury can be a complex legal matter, but the knowledgeable legal team at Brown & Crouppen can guide you through the process. Our skilled concussion attorneys understand the legal and medical complexities of brain injury cases. They have dedicated their careers to staying up-to-date with the laws, regulations, and precedents that govern these cases, allowing them to provide you with the best possible legal counsel and representation in the St. Louis area. 
Our St. Louis concussion lawyers recognize that recovering from brain trauma requires comprehensive medical attention and ongoing treatment. We will work closely with medical experts, such as neurologists and neuropsychologists, to understand your injury's full impact and accurately assess your current and future needs. We want to help you secure fair compensation that accounts for the full extent of your physical, emotional, and financial damages. 
Additionally, our personal injury lawyers acknowledge the emotional effects a concussion can cause. They understand the frustration, anxiety, and uncertainty that can arise from dealing with the aftermath of an injury. We provide legal guidance and support to ensure you feel heard, understood, and supported throughout the legal process. Contact Brown & Crouppen today to discuss your situation and take the first step toward obtaining justice.
How Much Is a Concussion Case Worth?
There is no standard value for a concussion case. The compensation available for your injury will depend on several factors. A skilled concussion lawyer at Brown & Crouppen will assess your case's unique circumstances, gather evidence, consult medical experts, and calculate the full extent of your damages. Over the years, we have won over $1 billion for our clients. 
The factors contributing to the valuation of a concussion lawsuit include the following :
Medical Expenses:

The cost of medical treatment for the concussion, including hospital bills, doctor visits, medication, therapy, and any future medical expenses, can contribute to the overall value of the case.

Lost Wages:

If the concussion caused you to miss work or decrease your earning capacity, the amount of income lost due to the injury can be factored into the case's value.

Pain and Suffering:

Compensation for the physical and emotional pain, suffering, and diminished quality of life resulting from the concussion can be a significant component of the case's worth. 

Long-Term Effects:

If the concussion leads to 

long-term or permanent consequences

, such as cognitive impairment, memory loss, personality changes, or increased risk of future health problems, these factors may increase the case's value.
Liability: Determining who is at fault for the concussion and the extent of their negligence or responsibility will impact the case's potential value. If another party's actions or negligence directly caused or contributed to the concussion, it may strengthen your compensation claim.
Unfortunately, some accidents involving concussions and head injuries can lead to death. Losing a loved one due to the negligence or misconduct of others is a heartbreaking experience. At Brown & Crouppen, we provide dedicated legal representation for wrongful death cases, holding responsible parties accountable and securing compensation for: 
Funeral expenses

Medical bills

Loss of financial support

The emotional toll on loved ones
How Do You Prove a Concussion Case in Court?
Proving a concussion and its symptoms in court requires medical evidence, expert testimony, and a thorough understanding of the applicable legal standards and requirements. Our concussion lawyers have extensive experience presenting compelling evidence to establish the occurrence and severity of a concussion. We can collaborate with medical professionals specializing in brain injuries to gather the necessary documentation to support your case.
Key elements involved in validating a concussion include the following. 
Medical records and documentation are crucial in proving a concussion. These records include assessments of the injury, such as emergency room reports, doctor's notes, and diagnostic test results. These types of medical documents can help prove your concussion diagnosis and outline the treatment you received or need to receive.
Testimony from medical professionals specializing in concussions can be essential in proving the existence and severity of a brain injury. These experts can explain the medical aspects of the injury, its symptoms, and the long-term effects that can arise from a concussion. Their testimony can help the court understand the impact of the concussion on your health, well-being, and quality of life. 
Eyewitness testimony can be valuable in establishing that an incident occurred which led to the concussion. For example, if the concussion resulted from a car accident, witnesses who observed the accident can testify about the event and any visible signs of head trauma. 
What Types of Accidents Cause Concussions?
Concussions can result from various types of accidents.
Collisions often lead to head injuries, including concussions. At Brown & Crouppen, our experienced team has a proven track record of successfully representing clients in many motor vehicle accident cases, including Uber accidents, motorcycle crashes, and truck collisions. We will diligently pursue compensation for your injuries, medical expenses, lost wages, and pain and suffering. 
A fall on a slippery surface, an uneven sidewalk, or another hazard can result in head trauma and concussions. We will thoroughly investigate your accident's circumstances to establish liability. With our history of successful results, you can be confident in our ability to handle your slip-and-fall accident case.
Athletes participating in contact sports or high-impact activities risk sustaining concussions due to direct blows to the head. Our experienced team of concussion lawyers is well-versed in the legal complexities surrounding sports-related concussions. With our in-depth knowledge of sports-related injuries and commitment to fighting for justice, you can trust that we will protect your rights and interests. 
Workplace accidents can result in concussions, especially in industries that involve physical labor, machinery operation, or hazardous environments. Specific considerations and legal procedures may apply when a concussion occurs in a workplace setting like gas stations and supermarkets. Our legal team will thoroughly evaluate your case, explain your legal options, and help you navigate the process.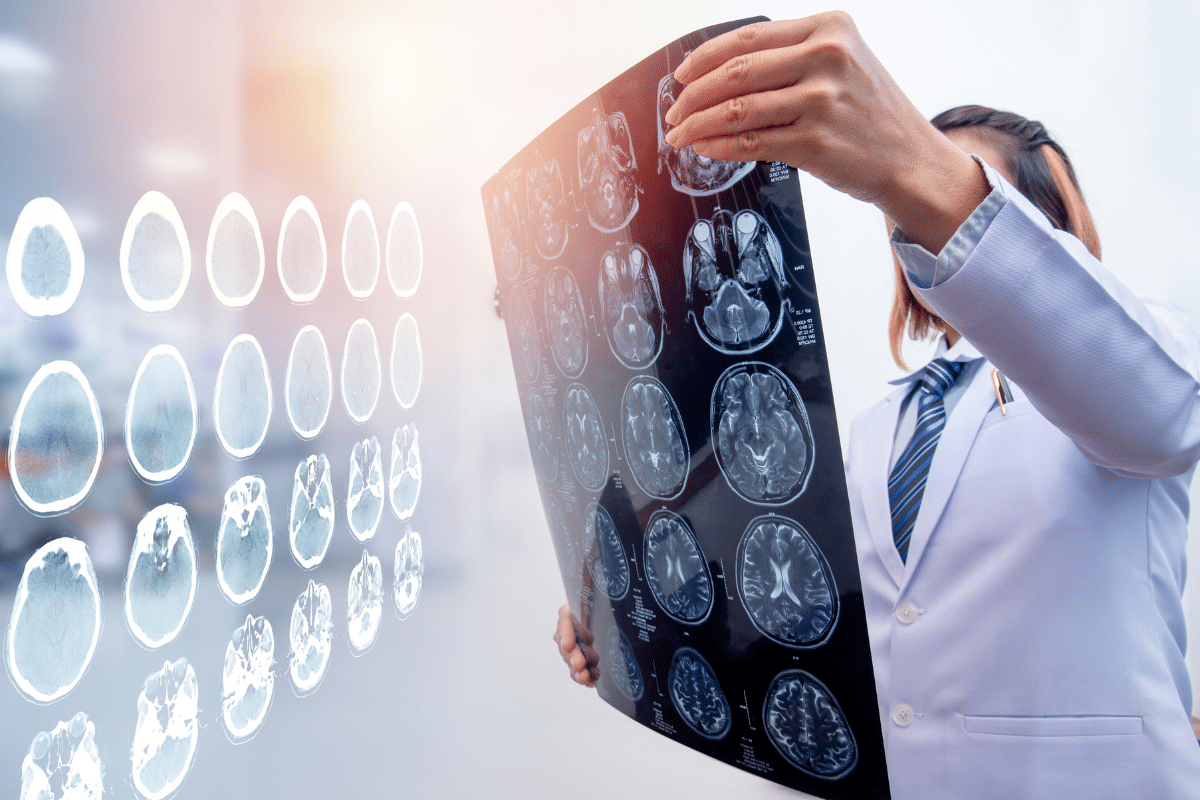 Whether you have been involved in a hit and run or experienced a workplace injury, recognizing the warning signs of a concussion and seeking timely medical treatment is crucial. Common symptoms include the following:
Headache

Dizziness

Nausea or vomiting

Fatigue or drowsiness

Memory loss or confusion

Sensitivity to light or noise
If you or a loved one experience any of these symptoms after an accident, seek medical attention and consult with a concussion lawyer at Brown & Crouppen.
Get started with a free consultation with one of our skilled Personal Injury Lawyers today.
Contact a St. Louis Concussion Lawyer Today
Brown & Crouppen is the top choice when you need a St. Louis concussion lawyer. We understand the challenges faced by individuals who have suffered brain injuries, and our legal team can provide you with compassionate and personalized legal representation. Contact Brown & Crouppen today to schedule a consultation and take the first step toward securing the compensation and justice you deserve.
Brown & Crouppen Law Firm
211 N. Broadway Suite 1600 St. Louis, MO 63102
(314) 501-9510
"I have never needed an attorney before this accident, I am very grateful for their help. They work with you and help you to the people you need in a timely fashion. Their services so far have exceeded my expectations. they are always available to help quickly and a high level of professionalism"
"Absolutely loved B&C. They did everything in their power to help me and as quickly as they could. I was dealing with a car wreck and this was my first time doing something like this and they made it less stressful for me. Definitely will go back if I need to!"
"All Brown and Crouppen employees were kind and thoughtful. All questions were answered promptly . I could relax knowing I was in capable hands. I will be happy to use this law firm again if needed. If I hear of anyone needing legal assistance because of an injury, I will highly recommend Brown and Crouppen"
SCHEDULE A FREE CONSULTATION