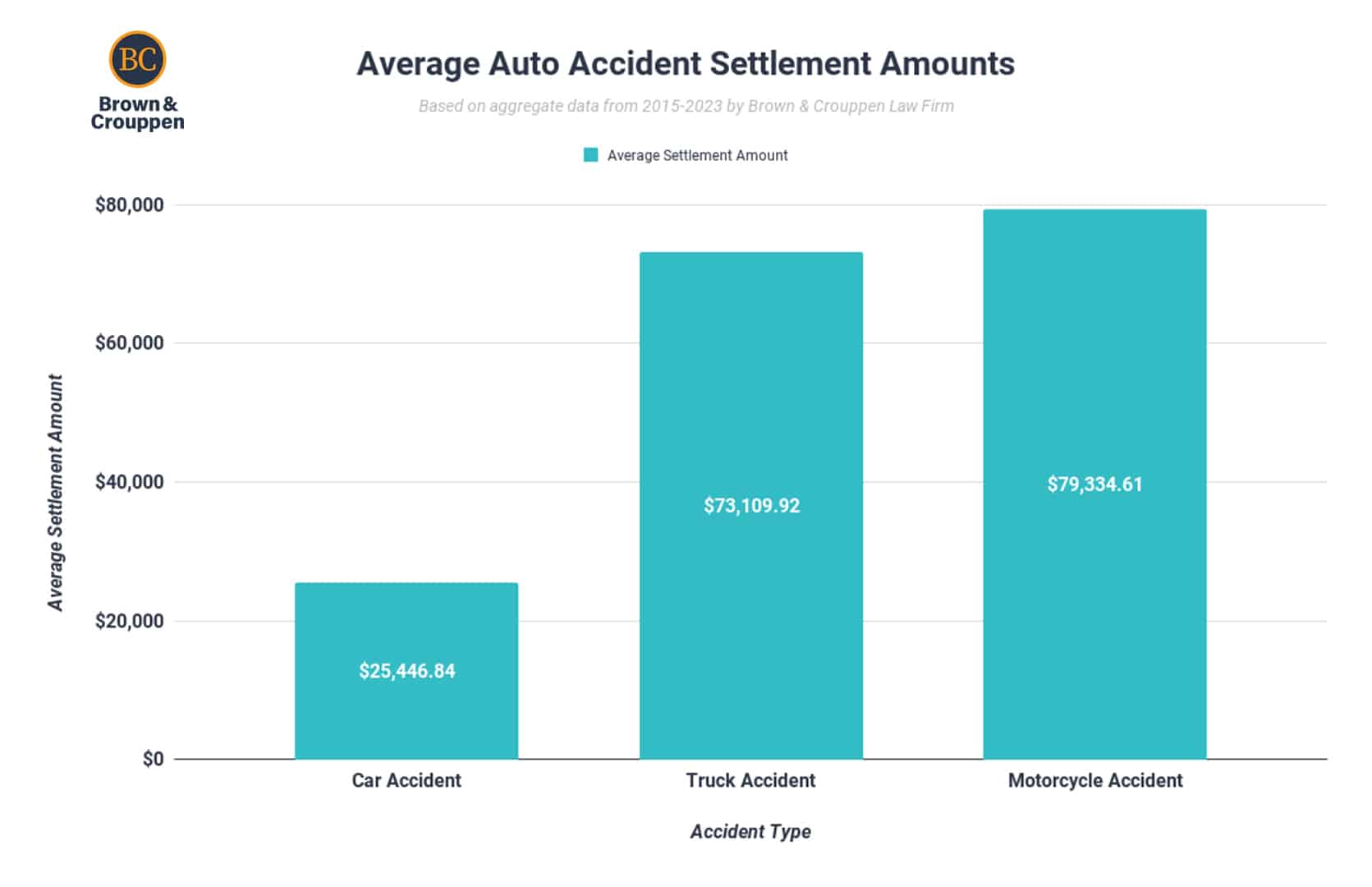 Additional auto accident settlement values are as follows:
Average car accident settlement: $25,446.84
Average truck accident settlement: $73,109.92
Average motorcycle accident settlement: $79,334.61
These averages do not necessarily inform a standard amount for every settlement. The circumstances surrounding every accident are unique, as are the characteristics of each truck, motorcycle, or car accident claim. As a result, settlement amounts of personal injury claims depend on many factors, although the severity of injuries is largely what impacts a settlement's value.
FACTORS THAT AFFECT THE AMOUNT OF CAR ACCIDENT SETTLEMENTS
Most states have an insurance coverage requirement, which is usually $25,000 / person and $50,000 / accident. This is the minimum liability coverage requirement in Kansas, Illinois, and Missouri. Most states also require uninsured motorist coverage if an auto accident occurs with a driver who is uninsured. In Kansas, Illinois, and Missouri, the minimum requirement for uninsured motorist coverage is also $25,000 / person and $50,000 / accident.
Drivers' insurance policies and insurance providers have a major influence on the car accident settlement process and the final amount of a car accident settlement.
If an accident happens in Missouri, the insurance company of the at-fault driver is responsible for paying medical bills, property damage, and any injuries that result from the car accident.
In some cases, it's easy to prove who's at-fault, while other cases may result in partial liability, a feature of comparative negligence that allows claimants to pursue compensation from defendants in accordance with defendants' role in the accident. When a car accident fails to suggest a clear at-fault party, a claim may proceed to court or trial.
The payout of car accident settlements are also highly influenced by the type of injuries an accident has caused. A car accident case involving a serious injury is more likely to have a higher payout in comparison to a case involving only moderate injuries.
A car accident injury such as those that are serious, life-changing, and non-recoverable justifies a higher payout than the typical car accident settlement where only minor injuries occurred. This is due to claims of pain and suffering in addition to greater medical expenses.
In fact, the average amount of medical expenses following a car accident can be as high as $57,000 if hospitalization is required.
Each state has unique laws regarding minimum insurance coverage, traffic laws, and governing laws that address how fault affects a car accident claim. A personal injury lawyer can shed light on how state laws affect a claim and determine what steps are best to take with regard to either a settlement or a car accident lawsuit. For example, each state has a car accident statute of limitations that determines the amount of time an individual has to pursue legal action after an accident.
Financial loss is calculated when determining the payout of a car accident settlement and is another major factor in any car accident case. This includes vehicle damage, medical expenses, pain and suffering, and any lost wages that might occur due to being unable to work.
HOW CAR ACCIDENT SETTLEMENTS ARE CALCULATED
How much someone receives from a settlement or how much someone can sue after a car accident largely depends on the insurance company and available coverage. As the most common sources of payout cases, a standard formula is used to calculate car accident settlements, which includes the following:
Injury severity
Pain and suffering
Medical expenses (current and future)
Lost wages
Fault & Negligence
Available insurance coverage greatly depends on the wrongdoer and his or her insurance policy. If your injury is caused by an uninsured individual, that individual may not have the resources to pay a judgment against him or her. If your injury is caused by an insured individual, the amount you can recover in settlement may be limited by that individual's insurance policy. The limit of each individual's insurance policy depends on how much insurance that individual can afford. For example, businesses or large corporations likely have more coverage and higher limits on their insurance policies than average individuals do. Furthermore, most states only require a minimum of $25,000 in personal automobile liability coverage per person for any single crash and $50,000 combined total coverage for any single crash. Unfortunately, that means you may not even be able to recover $25,000 if three or more people are injured in the car accident.
MAXIMIZE THE COMPENSATION OF YOUR CAR ACCIDENT SETTLEMENT
A car accident lawyer can help you maximize the compensation of your car accident settlement by collecting evidence, handling the legal process, and negotiating with the insurance company. If you've been injured in a car accident, immediately seek medical attention and free consultation.
Due to the statute of limitations, it's important to get started on your claim as soon as possible. Request a free case evaluation from a personal injury attorney at Brown & Crouppen, or call 888-801-4736 to get started.